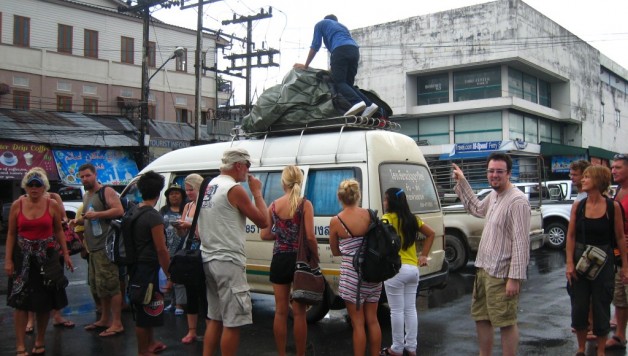 What Kinds of Friends Make the Best Travel Companions
An adventure requires certain ingredients to make it successful and happily memorable. One of those ingredients is the right kind of travel buddies to surround yourself with. There are good candidates for this, and there are bad, however picking the right ones can make your plans much easier from the get go.
In my opinion there are certain things that make up the right kind of travel buddy, and whether you pick someone with all of the points below, or whether you mix and match, just to be a little different, make sure you at least gel with the person, and don't let petty squabbles ruin your time.
So, what should you look for?
1)     A good sense of humour
Throughout the days, weeks or months of your travels, you will have ups and downs, and the one thing that will keep you sane is knowing that you can laugh about it. I've fallen over more times during trips and days out, but me and my travel buddy usually end up falling about laughing about it instead, making more memories to laugh about later on. When things go wrong, when your hotel doesn't have the room you booked etc, a good sense of humour in your travel buddy will go a long way.
2)     A sense of adventure
I went on holiday once with someone who never wanted to leave the room, because she was basically scared of getting out of her comfort zone and exploring a little. Whilst I'm not suggesting you find someone who wants to trek the north pole at every available opportunity, pick someone who does at least want to see new things and experience a little of the local way of life.
3)     An ability to budget
Money runs out, we all know this, and there isn't a money tree anywhere that I'm aware of. Because of this reason, you need someone who is a little money savvy, because let's face it, you don't want to be copy spending, which is something we all do. You know the drill, he or she wants to eat out, but you can't afford it, yet a little peer pressure and you're out there too. Make your money last.
4)     Trust
Goes without saying really, but you need to pick a friend you can trust, someone you can share your worries and secrets with and someone who won't screw you over at the first chance of opportunity. Trust = a good travel experience, in fact trust = a good experience overall.
5)     Someone with whom you have things in common
It's no good going away with someone who wants to go clubbing all the time, when you want to go looking at ancient ruins. You need a good blend, and for that you need someone who you have things in common with. A few differences are good, to keep things spiced up, but having a few things in common means you will both get out of your experience what you both want, without tears, drama, or tantrums, and your friendship will then survive the experience, and probably be stronger for it.