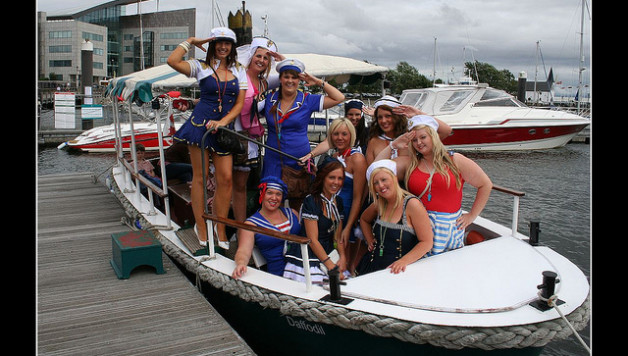 Planning a Hens Night Abroad
Published On August 19, 2015 |
Travel
The last night of freedom before the big day, the day you say 'I do', has to be planned carefully and to the very detail – for sheer memory experience. It is becoming more and more popular to enjoy the last few days of freedom away from normal surroundings, in a new city or a beach resort etc, but this brings with it a whole new set of problems and things to plan.
Consider culture
If you're going somewhere cultural, e.g. maybe Morocco, think of the cultural elements. Hen parties have a habit of getting a little bit wild, and you can't be parading around in plastic L plates and all manner of dodgy paraphernalia in certain parts of the world. You do need to be a little careful in some cities, because groups of women aren't viewed as meant to be partying in this way, and ways of life can be different to what you're used to in your home country.
Think safety
Go somewhere safe. These days we do have to think about safety, especially for women, so do your research again beforehand and listen to advice you're given. Most cities are generally safe, if you keep your common sense about you, and beach resorts, such as those in Spain, Greece etc.
Inform your hotel
It might be an idea to tell your hotel that you are a group of women on a hen party at the time of booking, because some hotels may not accept you, and you don't want to be turning up and finding you have nowhere to stay. If you're upfront about it, you should have no problems, so simply email a few hotels before you choose, just to be sure.
Take your party gear with you
You won't be able to buy a lot of the fancy dress items you might want when you're away, so make sure you take it with you, and pack it appropriately in your case. Plan what you want, take it with you, and you can just head off and enjoy.
Ask the bride!
If you're the maid of honour or someone acting on their behalf to plan the weekend, make sure you pick somewhere that the bride will actually enjoy. This is her weekend remember, so ask where she would like, and go with that as the final choice. Some might want a party weekend, but she might want a relaxing weekend in a spa – it's her weekend!
Don't plan the hen weekend for the days before the big day
It used to be tradition to have the hen night or stag do the night before the wedding, but I'm sure we've all seen enough films and soap operas with storylines where the groom ended up tied to a lamp post in France and didn't get back in time, or the bride had a drama and was late. To counteract any potential problems, plan it for the weekend before if possible, so you have time to rectify any problems if need be. Obviously, we hope there won't be any!
Image by Ben Salter under Creative Commons license.