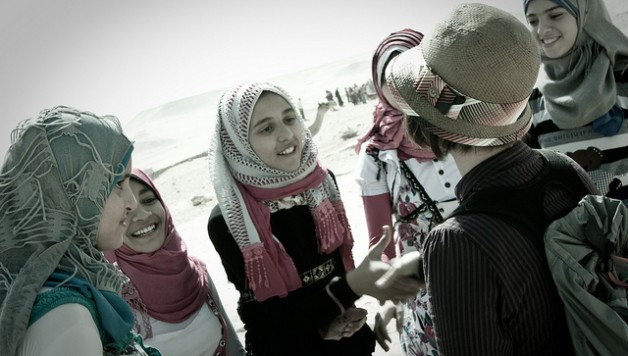 Making friends with locals when you move abroad
Part of travel is about experiencing culture and way of life, so what's the best way to do just that?
Live like a local, of course.
Making friends with the locals is the best way to make your travel more enriching, safer, and of course, to make new friends. Despite that, don't trust everyone who smiles at you, because especially in tourist places, you might find that there are some unscrupulous types, waiting to ensnare unsuspecting tourists. Having said that, you can't tar everyone with the same brush.
So just how do you make the right friends? Well, there are a few things to remember.
Trust is earned
We just touched on it, but keep everyone at arm's length until trust is earned. Never ever give anything to anyone, especially money, and don't reveal too much about yourself too soon.  This isn't something out of the ordinary, because let's face it, there are bad people everywhere, but if you're out of your comfort zone, and away from your natural surroundings, it's easy to grab onto the first person who seems friendly.
Speak the language
You don't have to be fluent, but if you can at least say 'please', 'thank you', 'hello', 'goodbye', then you will earn more respect than if you refuse to even try. You might get it wrong, but it doesn't matter, they will appreciate the fact you gave it a go. Before you head off, just download an app onto your phone, or buy a language book and learn the basics. You'll probably also find that you pick up a lot of the local lingo by just talking to others along the way
Respect religion and cultural differences
This all depends on where you're going, but remember that cultures differ wildly the world over, and whilst the religion might not be yours, always be respectful of the way of life in the place you're going to. If you have to cover up clothes-wise, do it, and don't be walking around in a bikini. This won't earn you respect and you won't make friends, in fact you might find yourself the subject of local gossip, and not in a good way.
Go where the locals go
The best way to appreciate local life and meet new local friends is to go where the residents go for food etc. If you're staying in a hotel, speak to some of the reception staff or bar staff and ask if you can tag along. You'll be safer if you go with someone you know, and more often than not they will look after you like something shiny and precious, because you're a guest, and you also shouldn't get bothered by anyone a bit dodgy. This also comes with the added bonus of being a hell of a lot cheaper than going to the tourist parts of wherever you're visiting.
Keeping an ex-pat and local blend
Having a mixture of ex-pat friends, your friends from home, and locals will give you a really different experience and you also have the added bonus of feeling like you're in touch with home, whilst being surrounded by something totally different. Keeping old friends and meeting new will give you someone to rely on whilst you're in a strange place, and in my experience, it's always a very handy thing to know locals in the event of an emergency etc.