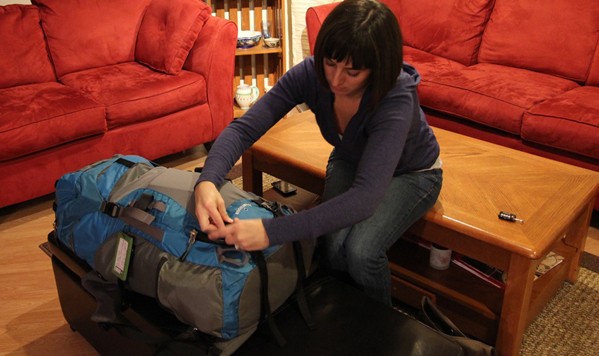 What to Pack for a Romantic Couples Weekend – Carry On Only
Selecting the right kind of clothing for a romantic weekend away can be a minefield, and if it's a surprise weekend, it's even harder. Is it a city break? Is it a beach break? It is a country retreat? You basically need to know exactly what it is you're packing for.
Forewarned is forearmed, remember this.
In the case of a city break, it's advisable to think glamour, but comfort. Girls, yes you can take a pair of heels in this case, it's totally allowed, and a glam dress for a night out with cocktails and a meal, which let's face it, is one of the ingredients of a romantic break. Guys – remember a suit, or at least smart trousers and a shirt, and a decent pair of dress shoes. Romance should always involve a candlelit meal for two.
For the daytime, think comfort and a coat, as nothing kills romance like moaning about the temperature.
This can all be packed into hand luggage if you're careful who you fly with. If you're driving, even better, because you can take what you want, but if you are flying, there are certain airlines that allow more weight allowance than others. Low cost airlines generally allow a standard sized bag, and some allow as much weight as you can fit into it, but do check this out first, and shop around.
In terms of toiletries, remember the liquid restriction rule, with nothing over 100ml in a single bottle or item allowed. These will need to go through security separately, in a clear plastic bag which you can get from the airport. My advice would be to get all your toiletries at the airport, and that way you don't need to worry because you're past security, it doesn't affect your weight allowance, and you can pack more clothing into your case.
If however you're off to the beach or a country romantic retreat, you do need to know about a) temperature, b) what you're doing to be doing, and c) how long you're going for. Country retreats usually involve walking, and that would involve walking shoes. My advice? Wear them to travel in, to cut down on weight, and the same goes for coats regardless of where you're going. In the case of a beach break, try the mix and match rule – maxi dresses and flats, dressed up or down with jewellery and accessories for the girls, and a smart pair of linen trousers or combats with a shirt for the guys.
Casual is the way to go, because really this whole romantic weekend away thing should be about spending time together, not tarting yourself up into oblivious to impress anyone else. Banish the mobile phones, don't take the laptop, and ignore the tablet – focus on each other, which also has the added bonus of saving luggage allowance!
Carry on luggage only saves money regardless of who you're going with, or where you're going. A little clever packing is all it takes, with plenty of planning involved. Adding bags on a return flight can mean anything up to £40 on top of your flight ticket, and sometimes more depending on the airline. Anything saved is a bonus, and can be put towards the activities you will enjoy together on your break.