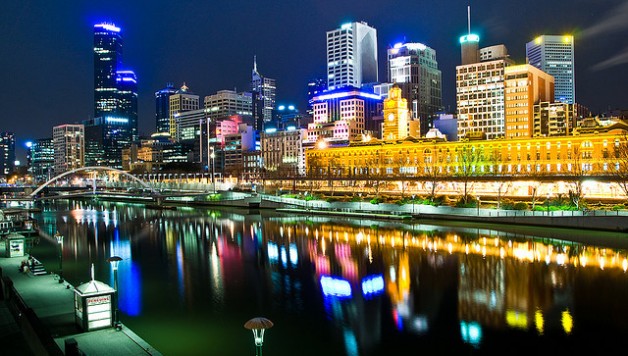 Ideas for a weekend in Melbourne, Australia
Published On October 24, 2014 |
Travel
When you think of cities to visit in Australia it is natural to think of Sydney. Sydney is beautiful,
bright, bold. Melbourne (the second largest city in Australia) is almost the opposite of all that, but
that doesn't mean it isn't worth visiting – it absolutely is. In this article give you some hints and tips
and a bit of guidance on why you should be including Melbourne in the itinerary for your expedition
to Australia.
A "liveable" city
If you ask anyone that lives in Melbourne they will tell you that it is probably a better city to live in
rather than visit. It does have some beautiful buildings and some nice parks (e.g I enjoy walking in the Botanical Gardens and Fitzroy Gardens) but they are not what Melbourne is renowned for. The River Yarra runs through the heart of the city but it's fairly brown and murky, and there are beaches accessible from the town but you have to travel to get to them.
What Melbourne has in bucketfuls is a great lifestyle. It's a city that prides itself on its cafes,
awesome restaurants, art galleries (I enjoyed the National Gallery of Victoria International on St Kilda Rd, and especially the fantastic display of Australian art at the The Ian Potter Centre: NGV Australia at Federation Square), theatre, and its live music. It has lots of narrow lane ways that are full of hidden
places that you have to know that are there, it's neighbourhoods each have their own unique character and it is all connected together by the quaint old trams that rumble gently along the streets.
A sporting city
Melbourne is a city that is utterly and totally obsessed with sport. Any sport. It is in Melbourne that
the Australian Open tennis is held each year and that totally consumes the town for about a month.
Cricket is also huge here all summer, with the highlight being the Boxing Day Test that is held at
the Melbourne Cricket Ground. Football (soccer) is becoming increasingly popular and Manchester
City has just bought the local Melbourne team. Horse racing is massive with the Spring Carnival a
major fixture on the social calendar – the city has a public holiday for the Melbourne Cup. But
above all, Melbourne is a city that is obsessed with Australian Rules Football. This is a winter sport,
similar to Gaelic football. The premier competition is now a national league but Melbourne is the
spiritual heartland of the game. Around finals time (September) there really isn't any other topic of
conversation apart from Australian Rules Football.
An outdoors city
One of my favourite day excursions from Melbourne is to go to Port Phillip Island to see the penguins.
Each evening the colony of Fairy Penguins body surf on to the beach and waddle up to find their
nests. The viewing area is cleverly arranged so that the penguins waddle right past you, almost as
if you aren't there. If you're a "motor head" you'll know that Phillip Island is also famous for it's world class racing track.
Neighbourhoods I love are:
– St Kilda – this is a beach-side suburb with great bars, cafes and
restaurants. On weekends this area comes alive with everyone out roller-blading, walking their
dogs, running, or just sitting on the sand and working on their tan.
– Brunswick and Smith's Streets in Collingwood – I enjoy frequenting cafes and browsing shops in this hip, grungy neighbourhood.
– Punt Rd and Chapel Street in South Yarra – has great clothes boutiques.
Melbourne is a foodies paradise – Great coffee and food, and it has a great lifestyle all round. What more do you need for a perfect city break in Australia? – rhetorical 🙂
Photo Credit: Hai Linh Truong under Creative Commons license.