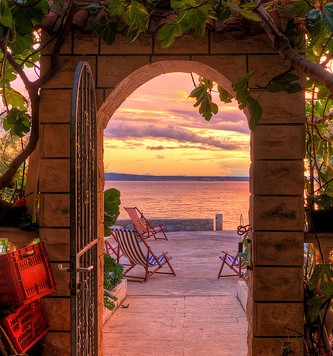 How to Have a Luxury Weekend Away on a Budget
A little luxury every now and the can be a good thing, and spoiling ourselves is a right in my opinion.
Despite this, nothing in this world comes for free, and when you're pricing up a luxury break, you could be forgiven for thinking that a hostel bargain break is the way forward!
Don't worry however, as there are ways you can get a little sparkle and luxury in your life without robbing the nearest bank, and it basically comes down to a little shrewd thinking, being in the right place at the right time, and basically being a little cheeky.
1)     Do it the DIY way
Package breaks can sometimes be cheap, but I often find doing it all yourself usually works out cheaper. If you can be totally flexible, you'll find cheaper deals on flights and hotels etc, which can be put together yourself to make your own bespoke package. Head to Skyscanner or similar comparison sites for flights, and the same goes for hotels, with Money Supermarket a good choice to peruse what's on offer for your chosen dates.
2)     Don't be too rigid
Again, like we just mentioned, flexibility is the total way forward, and if you can head off mid-week, you'll always find it cheaper than the weekend. However, having said that, going away out of season can mean you get a weekend away cheaper. It all depends on where you want to go, what you want to do, and your home/work commitments.
3)     Check out voucher sites
Depending on where you're from in the world, I'm sure you'll find regional voucher sites, such as Groupon or Wowcher. These offer fantastic breaks for bargain prices, and it's often a case of just checking what's available on a daily basis, and not dilly-dallying when you do find something that suits, as they will sell out quickly.
4)     Go all inclusive
Many spa hotels or 5 star hotels offer all inclusive options, and whilst this is usually a little more expensive at the time of booking, it saves you spending money whilst you're away, and means you don't have the hassle of budgeting and being too rigid whilst you're enjoying your luxury. All your food and drink is included in the price, and often your entertainment too, so there's no need to thinking about restaurants and expensive bars.
5)     Go last minute
Hotels generally prefer to have their rooms full, even if they have to sell them cheaper, rather than them being empty. It's for this reason that it's worth checking last minute websites for any deals that come up with little notice. You're running the risk of finding nothing of course, but you could also grab yourself a major bargain.
6)     Be cheeky
There is a saying that if you don't ask, you don't get, and it's a very true saying. Haggling isn't particularly pleasant in my experience, because I don't like being cheeky, but in some parts of the world, this is totally expected so it can't be all bad! Send out a few emails and ask about availability and budget, blag it and say you're on your anniversary or something equally as special, and see if you can get something for nothing. Don't ask, don't get!