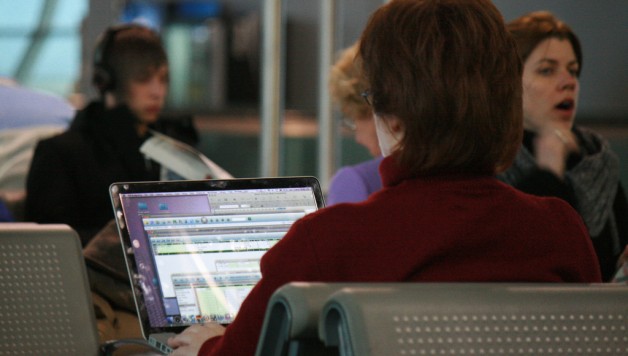 Digital Nomad Skills
Published On July 11, 2014 |
Travel
Working on the go.
For most digital nomads, there's no such thing as a 9-5 day. I used to be religious about having weekends off from work, but now I can't remember the last time I had a weekend off. I'm often still working at 11pm at night. However, on the flipside, I've been able to take some breaks in the middle of the day to watch sports or go from a swim.
If you've been used to setting yourself up for your workday in a nice quiet office with a fancy office chair, then prepare for a life spent working in bed and in airports! Ergonomically it's not great but you may find that if you feel relaxed while you work, and provided you don't have a laptop with a cramped keyboard, that your body learns to tolerate working in less than ideal physical positions. Occasionally I need to ice my wrists or shoulders if I start to get any pain from typing in bad positions.
Coping with uncertainty.
Income and workload tend to be erratic for digital nomads. It can seem like it's either feast or famine and it can get a bit scary when you have a few weeks of not much income coming in. You have to learn to trust that your income will pick up again, provided you keep doing the hard work necessary for that to happen. It's also a good idea to build multiple, small income streams that help smooth out the bumps in income. For example, I do user testing for websites. It only brings in $30-40 a week but it's a nice amount and I don't need to go looking for the work since available jobs just arrive in my inbox. There are always ways you can make money on the road if things get really tight. The way you build up skills for getting this type of work is by doing it, and by making connections with other nomads for the purpose of sharing ideas and leads.
Deal finding.
One of the most important digital nomad skills is the ability to research deals and get the best price available. You'll need to learn to strike a balance between the time you spend researching and your quest to get the absolute best offer. Because you're making travel decisions all the time, you can't spend hours a day on research. You'll also need to get good at reading the fine print on offers and contracts. Often times you'll be looking for an option that isn't the standard – for example, doesn't lock you into a long term contract or that allows you to register as a foreigner, for example, getting car insurance when you're on tourist visa and the like. Whether it's locating a cheap furnished apartment, finding the best broadband, or learning how to get your groceries delivered for free, it's more or less the same skillset you'll need. You need to know how to do research, and develop an instinct for what's a good deal and what isn't. The more you get used to making these types of decisions, the more confident you'll get.
Photo Credit: Creative commons. jepoirrier