Bordeaux – the Paris of south-west France and a wine-lover's dream!
Published On September 27, 2017 |
Travel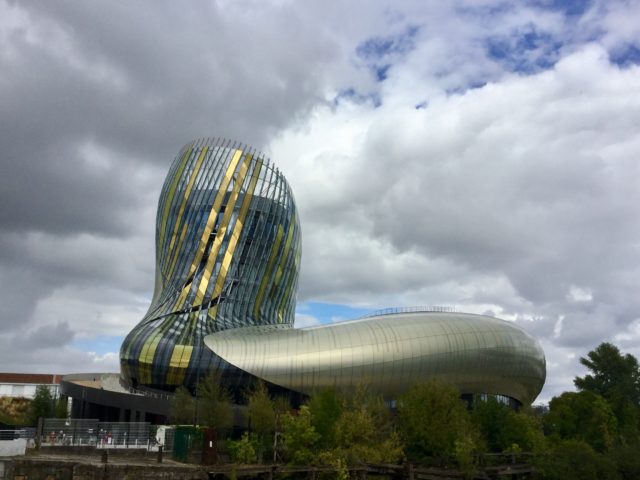 Cite du Vin, Bordeaux
Paris would have to be near the top of most travelers' destination bucket lists. It is truly a glorious city but because of it's popularity, it is overridden with tourists and has somewhat lost it's soul! The city of Bordeaux in the south-west of France has become the new, less cynical Paris. Why have we not heard this before? Because, in recent years, the historic area of Bordeaux has had a major makeover and has attained well deserved recognition from UNESCO as "an outstanding urban and architectural ensemble" of the 18th century. Bordeaux has the highest number of preserved historical buildings of any French city after Paris and, like the capital, it has a beautiful river passing through it. In case you weren't convinced, the countryside around the city is famous for producing some of the best wine in the world. I can think of nothing finer than spending a relaxing week in one or more chalets in France, enjoying the local produce and coiffing a few fragrant reds 🙂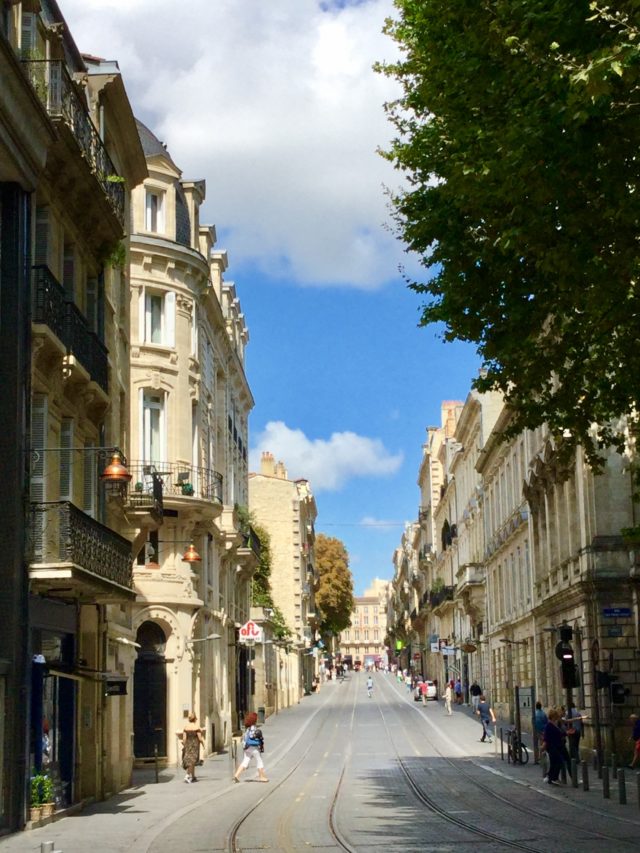 Streets of Bordeaux
Things to see and do during a long weekend in Bordeaux
Cite du Vin
Built at a cost of 81 million Euros and completed in 2016, the Cite du Vin is indeed an extraordinary museum and wine theme park in one. It champions not only local and French wines, but wines from all wine growing and exporting countries of the world, including New Zealand which is where I am from. It has it all! Architecturally stunning, La Cite du Vin can rival the Frank Gehry Guggenheim Museum Bilbao of Northern Spain. It is designed to replicate the swirl of wine in a glass! Completed just last year, the spectacular building, situated on a bank of the Garonne, has unsurprisingly, been given the nickname "The Guggenheim of Wine". The architects are Parisienne's Legendre and Desmazieres and together they have constructed a building and piece of art, befitting Bordeaux as the Wine Capital of the World.
My parents visited La Cite du Vin just last week and found the world of wine to be well represented, including Australia's Adelaide Hills and Barossa Valley, and New Zealand's Marlborough Region.
As a museum La Cite du Vin undertakes to reflect on the entirety of wine's history and its impact on the civilisation. On the ground floor there is a huge circular wine bar. Approximately 14,000 bottles are set out like books in a library, representing 800 wines from 70 countries. And they sell to visitors by the glass at a cost of 5 to 15 Euro. On the 3000 sqm 2nd floor there are a huge array of interactive displays, entertainment, movie theatres and auditoriums. On the 8th floor the huge wine bar has wrap around views over The Garonne, and of Bordeaux itself. Prominent on the river is the Pont Jacques Chaban Delmas, a vertical lift bridge completed in 2013, that can allow ocean going liners up the navigable reaches of the river. A complimentary glass of wine is offered to help one enjoy the beautiful view.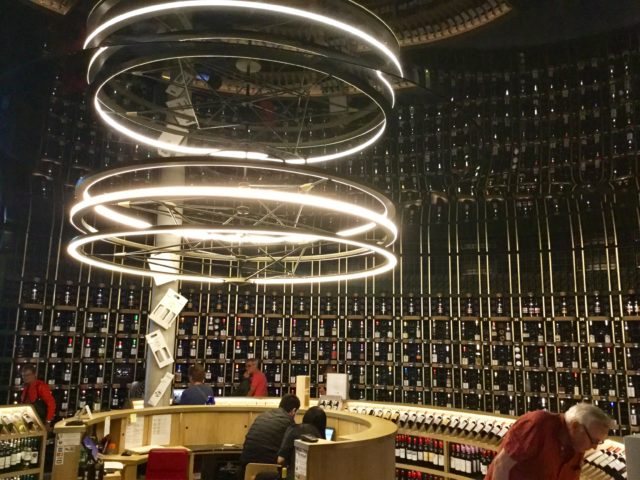 The ground floor wine bar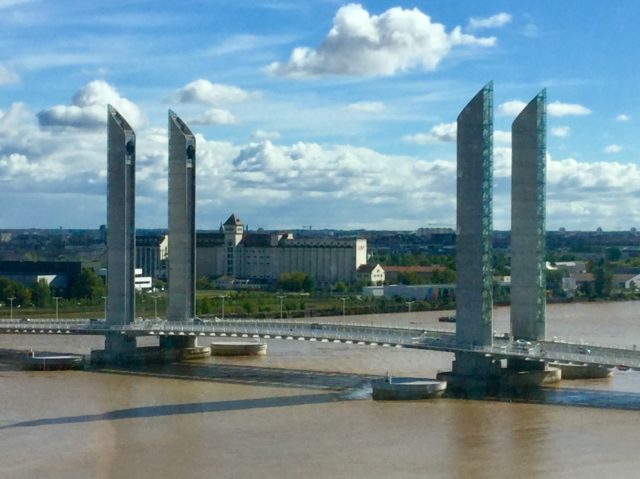 The Pont Jacques Chaban Delmas
The Place de la Bourse and Water Mirror
This is a fantastic place to visit for young and old alike. Laid between three centuries old buildings of exquisite architecture and the Garonne river is the largest reflecting pool in the world. Designed by Michel Corajoud this 37,000 square foot granite slab is covered by 2 cm of water and alternates between a reflecting pool and low misting spray. The end result is a photographers dream and a great place to cool your feet on a hot summer's day. It's a good idea to plan a visit to the Miroir d'eau both during the day, and in the evening when the whole area is lit up by lanterns and creates a magical atmosphere.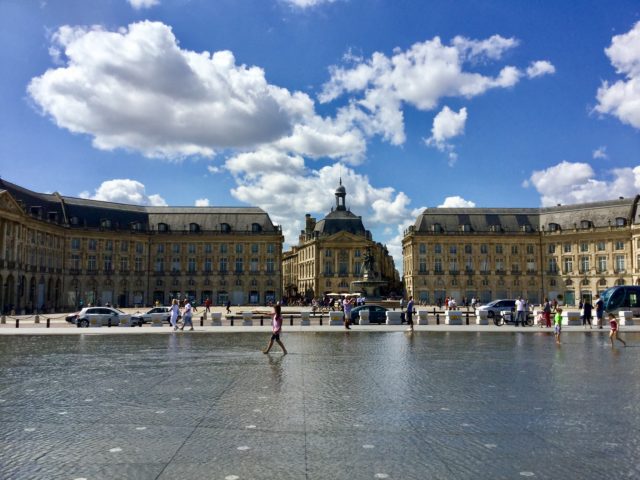 In front of the Place de la Bourse is the Miroir d'eau (Water Mirror) where children (and adults too) can play, darting and prancing, in and out of the dancing water.
Porte Cailhau
Built in 1495, this historic city gate commemorates the French victory in the Battle of Fornovo in Italy. It's grand facade has the appearance of a fairytale castle and is a great photo op. near the Garonne river it is only a short walking distance from the Place de la Bourse and Pont de Pierre. By all accounts the museum within is probably worth a miss.
Pont de Pierre
This grand 17 span bridge, which was commissioned by Nelpoleon Boneparte, was completed in 1822. Prior to that the only way to cross the wide Garonne river was by boat because of the fast flowing river it's construction was quite a feat and it was another 150 years before another bridge over the Garonne was added. Bordeaux is an extremely walkable city and has an excellent and easily navigatable modern tram system. If you wish, you can walk across the 1600 foot bridge. Alternatively you can cross it by bike, car or tram. The views of and from the bridge are especially pretty at night as it is lit up by lamps. The Garonne river is tidal and typically a muddy color so not especially attractive in itself.
Wine Tour
It would be unthinkable to visit Bordeaux without taking a day out to visit some famous vineyards and do some wine tasting. Most tours include the lovely village and wine growing area of Saint-Emilion, visits to two or three chateaus where you get to taste wine that is locally produced, and learn about the process of wine making from vine to bottle.